47th Annual Kentuck Festival of the Arts!
October 20, 2018

-

October 21, 2018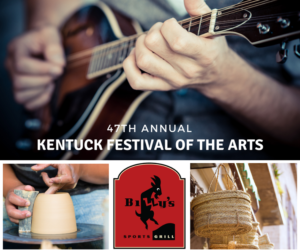 Billy's Sports Grill is a proud sponsor of the 47th Annual Kentuck Festival of the Arts!
Join us on October 20 & 21, 2018 at Kentuck Park, 3501 5th Street, Northport, AL, along with 270+ folk, contemporary artists and expert craftspeople. Festival hours are Saturday October 20th 9:00 AM-5:00 PM, and Sunday October 21st 9:00 AM-4:00 PM. Admission is $10-$15.
The Kentuck Festival of the Arts is a nationally and internationally acclaimed event, with over 10,000 people traveling from across the U.S. to celebrate Southern arts, crafts, music, and food. The two day-festival features activities for people of all ages, including over 270 artists, live music, spoken word, activities for children, folk and contemporary craft demonstrations, food trucks, and local craft brews.
Be sure and visit Billy's while you're at the festival. See you there!